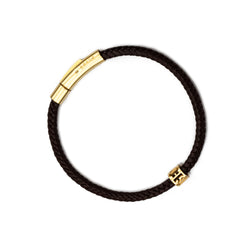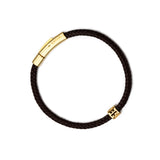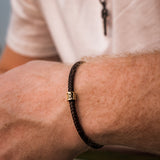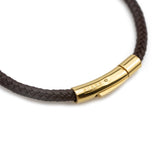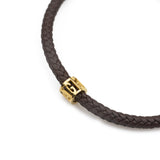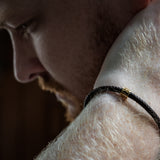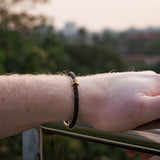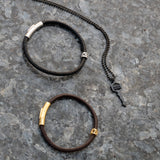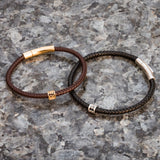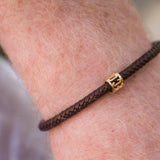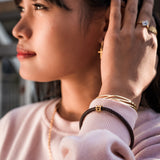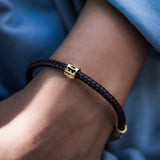 Courage Men's Leather Bracelet
SKU: C228GA
Brown braided genuine leather strap with 18K gold-plated stainless steel "courage" pendant. Available in 7.5" or 8.5". #C228GA, #C228GB.
Ei Zin's mother sold her daughter's virginity when she was just 14. Ei Zin felt like she had no worth, no voice, and no boldness. Soon she left school and found a job in a factory. She was able to generate enough income for her and her mother and things began to look up. Then factories across the city began to close and she lost her job. Her mother, filled with fury told her to get a job no matter the cost. And so, she began to work in a brothel. After some time of being trapped in this nightmare, she heard about the Eden Drop-in center. A drop of hope sparked in her and she came to the center as soon as she could. She started the nail art and sewing training and soon took a big step forward and decided to join the Eden program, and leave her former life behind.

It takes boldness and courage to leave your former life. It often feels impossible to leave old patterns and fears behind. It is only through taking that bold step forward into new beginnings and through forgiving those from the past and forgiving ourselves that true transformation, liberty, and hope can be discovered. Ei Zin now speaks up for those who cannot speak for themselves.
Properly caring for your Eden Jewelry will ensure a longer wear life. Follow these simple guidelines, and you can enjoy your jewelry for years to come. Avoid wet environments. Do not wear into the shower or store in humid places. Apply lotions, makeup, hairspray, and perfume before putting on your jewelry. Avoid contact with household cleaning products.
---
CARING FOR STERLING SILVER JEWELRY
Sterling silver jewellery is marked with a 925 stamp. Polish sterling silver pieces with a jewelry polishing cloth. If more attention is needed, immerse in a solution of warm water and mild dishwashing liquid and gently hand wash. A soft toothbrush can also be used for more abrasive cleaning when needed. Thoroughly rinse and completely dry the silver before storing, as moisture contributes to tarnishing. Never clean your jewelry in bleach. If the jewelry contains gemstones or pearls, do not submerge the entire piece into the water. Instead, use a cotton swab with mild dishwashing liquid to wash only the silver.

Note: These instructions are not for silver plated items.
Please see the next section for plated items.
---
CARING FOR GOLD PLATED STAINLESS STEEL JEWELRY OR SILVER PLATED JEWELRY
To clean your gold plated jewelry at home, use a non-abrasive jewelry cleaner that is safe for plated parts or a mild soap and water. Use a soft cloth to clean the item carefully. After cleaning, rinse with lukewarm water and allow it to dry completely.
Buffing your plated jewelry with a soft cloth is an effective and inexpensive way to keep your pieces lustrous.

Note: Do not use a jewelry polishing cloth, as this can damage the finish.
---
CARING FOR BRASS JEWELRY
To return brass to its original shine, make a paste of baking soda, water, and lemon juice and gently rub it onto the piece with a soft cloth. Wash the mixture off using running water, then dry and buff with a clean cloth.
---
CARING FOR STAINLESS STEEL JEWELRY
To clean stainless steel jewelry, pour warm water into a small bowl, and add mild dish washing soap. Dip a soft, lint-free cloth into the soapy water, and gently wipe the stainless steel jewelry with the damp cloth until the piece is clean. When cleaning it, rub the item along its polish lines. Wipe remaining soap off jewelry using a moist cloth dipped in clean water. Dry jewelry well with a clean towel, and then leave to air dry. After it is clean, a jewelry polishing cloth can be used to shine it.
---
CARING FOR BRAIDED OR BEADED JEWELRY
To clean beaded or braided jewelry, use a soft brush to apply a solution of warm water and mild soap.   If you are cleaning your jewelry in or near the sink, be sure to place a rubber mat or cloth over the drain to avoid losing any small pieces.
Shipping
When will I receive my order?
Thank you so much for purchasing Eden! We love that you're excited to receive your jewelry. We do our best to process all orders for shipment within 72 hours of receiving them – with the exception of weekends and holiday rush times. The arrival date will depend on the country and shipping method selected at checkout.
Do you ship internationally?
Yes, we ship worldwide for a flat rate of $25 USD. Please be aware that Eden can't control how different countries choose to levy customs fees, duties, or other taxes on incoming goods. We cannot predict what customs fees may be, as each country has its own individual policies. If you are not familiar with your country's import policies and taxation practices, please check before ordering.
I have not received any emails about my order. Was it placed successfully?
If you did not receive an Order Confirmation email shortly after placing your order, it's possible the order was not fully placed or that your email was entered incorrectly. Please reach out to Customer Service at office@thisiseden.org if you did not receive your Order Confirmation and we'll take a look.
My order was returned to Eden. What do I do?
Undeliverable orders due to address error will require re-shipment. We want to make sure you receive your jewelry, so Eden will happily cover the cost of the second attempt after the original order has made it back to us.
Our Return Policy
All returns must be approved by our Customer Care department. If for any reason you wish to return or exchange an item, please email office@thisiseden.org within 30 days of your receipt. Once approved, you can use one of the addresses below for your return.
USA Return Address:
Eden Jewelry
1211 S Linneman Rd
Mount Prospect, IL 60056
USA
Australia Return Address:
Eden Australia
4 Graeme Ave
Montmorency, 3094
Victoria, Australia

We will handle your return by either promptly exchanging the item or issuing a credit or refund.
Still have questions? Be sure to check our 
FAQ 
page or contact us at 
office@thisiseden.org
.